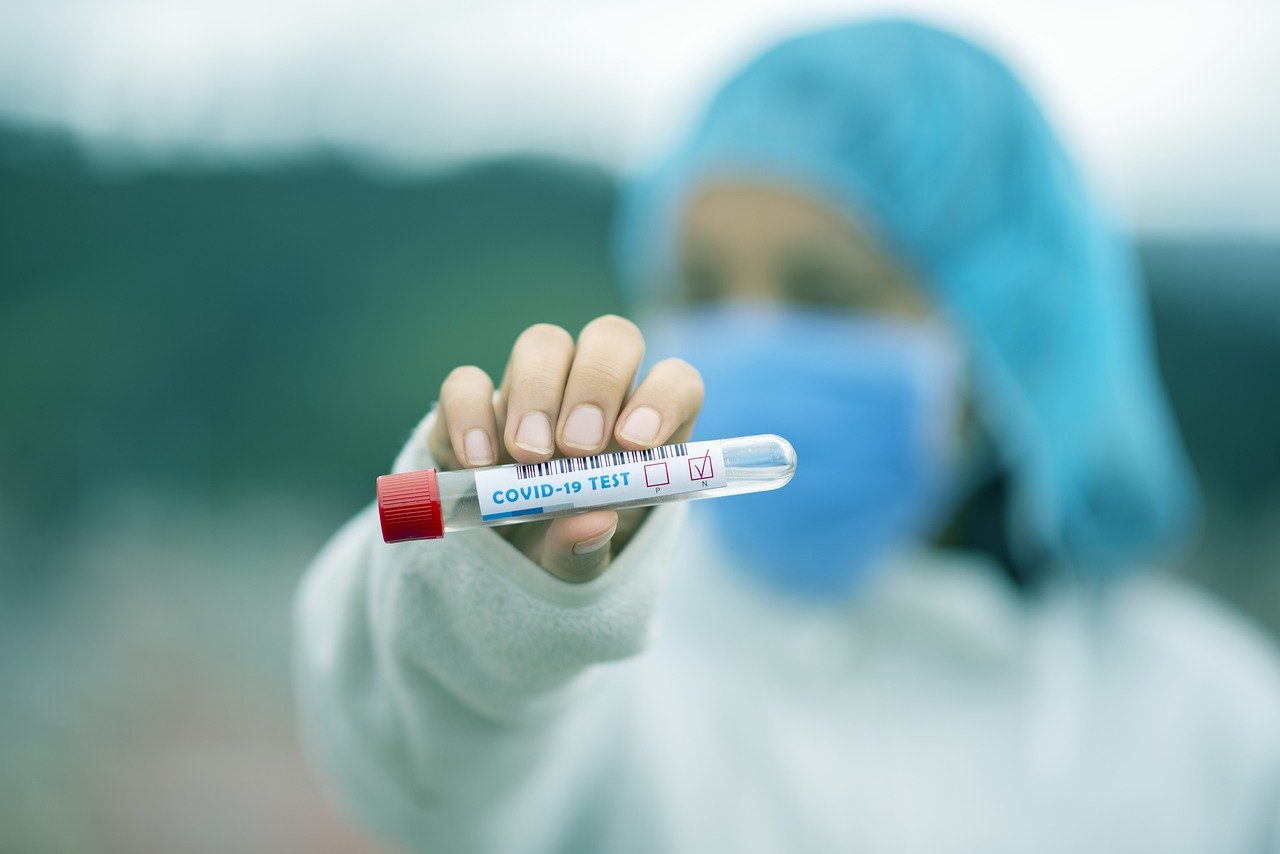 Your questions answered.
What is community testing and why is it taking place?
This is an important step forward in bringing down coronavirus transmission levels in Lincoln.
In the UK, it is estimated that as many as one in 50 people may currently have the virus. Many do not have symptoms and so are spreading the disease unknowingly.
The more people that can be tested the better as this helps us identify cases and to encourage people to isolate in order to break the chain of infection.
The testing is taking place in Lincoln at the LNER Stadium in Sincil Bank from 11 – 24 January and then at St Swithin's community centre on Croft Street in Lincoln for two weeks from 25 January.
The aim of the testing is to reduce the spread of the virus in certain areas, protect the most vulnerable and drive down the overall infection rate in the city.
How does the process work?
This test is open to all residents who live close to Sincil Bank in the first instance and then those who live close to St Swithin's, and are able to walk to the testing centre.
Testing is available for those who have symptoms and those who don't. However, if you have symptoms you will need to book your test by calling 119. Those without symptoms are invited to drop in without the need to make an appointment.
When you attend the site for a test, it takes no longer than 15 minutes and results will be received within an hour. If you test negative you can continue in this lockdown as you previously were. If you test positive you will be asked to attend a full Covid-19 test at a location close-by for a confirmatory test. If this confirmatory test is also positive you will need to isolate.
Why should I take a test if I don't have any symptoms?
This is to help identify and isolate individuals who have Covid-19 but do not have symptoms and may be inadvertently spreading the virus.
When does the testing start?
The testing started at Sincil Bank on Monday 11 January 2021 and runs for a period of two weeks. This will be followed by two weeks testing at St Swithin's community centre on Croft St in Lincoln from 25 January.
What are the opening hours?
8am to 8pm
Who can be tested?
Those who live in the Sincil Bank area and are over the age of 16 (although those aged 16 to 18 must be accompanied by an adult)
Could I catch covid while there?
We have created a safe environment. The queues are well managed, and people are socially distanced. Inside the testing site, cleanliness is maintained to the highest clinical standards.
What type of tests will be used for Community Testing and how do they work?
We are using rapid tests known as lateral flow tests or LFT, these are processed at the community testing sites without any need for sending samples to a laboratory. The staff at the testing sites have received special training to carry out the processing. Results are ready very quickly – from between 30 minutes and one hour.
You will receive your results by text or email soon after you leave the test centre.
A Lateral Flow Test (LFT) detects the presence or absence of coronavirus by applying a swab or saliva sample to the device's absorbent pad. The sample runs along the surface of the pad, showing at the end a visual positive or negative result dependent on the presence of the virus.
You will be asked to self-administer the test, under the supervision of a member of the test centre staff, who will guide you through the process of using a swab on the back of your throat and in your nostril.
How will you incentivise people to participate in Community Testing?
The more people who are tested will enable us to get back to normality and see our loved ones. Community testing will enable us to break the chains of transmission and stop the spread especially with those who are not showing symptoms.
What if I have symptoms, can I still come along for a test?
There are two types of tests available at the site. These are for people without symptoms and those with symptoms.
If you are not showing symptoms, you will be asked to take the lateral flow test (see above). If you do have symptoms, you need to call 119 to book your test. The test for people with symptoms is known as a PCR test and both testing sites are available very near to your home during this period
PCR testing detects the genetic code of the virus and can detect it within days of infection. The turnaround time is longer, generally in the 2-3 day range, as it needs to be done in a laboratory. The test will confirm if an individual who is showing symptoms of the virus currently has it. It will not confirm whether they have had it and have now recovered.
Will people be required to take a test?
Everyone in the locale of the testing centre over the age of 16 is asked to attend to take a test.
Are lateral flow tests less accurate than PCR tests?
Lateral flow and PCR tests have different characteristics and different uses. PCR tests have higher sensitivity but require a laboratory to process results and are therefore slower and more expensive. They are therefore well suited to specific cases, such as those with Coronavirus symptoms.
While lateral flow tests have lower sensitivity than PCR, they deliver results far faster and do not require a lab, making them more accessible and allow us to test far larger numbers of people without symptoms and get them their test result faster than with PCR technology. This will enable us to capture a large percentage of people who are infected and infectious, but showing no symptoms and so unaware that they are possibly spreading Covid.
Do these tests work for people without symptoms?
Yes. Lateral flow tests are validated technology, it is safe, inexpensive and the results are trusted.
Extensive clinical evaluation from Public Health England and the University of Oxford show Lateral Flow Tests (LFTs) are accurate enough to be deployed for mass testing.
What will this test tell me?
If you get a positive result, it is likely that you were infectious at the time the test was taken.
The antigen test cannot detect very low levels of coronavirus in a sample, so if you have only recently been infected, are in the incubation period, or if you have mostly recovered, the test may not give a positive result.
The test will only identify Covid, if you have a cold or flu instead, this will not affect the outcome of the test or register a 'false positive'.
How long does it take to do the test?
It takes less than 15 minutes to administer the test.
How long does it take to get the result?
The test produces a result within an hour.
How are the tests processed?
Lateral flow devices do not require a laboratory to process the test. The devices are designed to require minimal training to operate.
What should I do if I test positive?
If you receive a positive result from your LFT you will need to go register for a full Covid-19 test (call 119)
If the confirmatory PCR test comes back positive, then you must continue to isolate for 10 days from your initial positive lateral flow test. Everyone in your household will be a 'close contact' and must also self-isolate for 10 days. Contact tracing will be initiated through the NHS or local contact tracing team and other close contacts will be advised to quarantine for 10 days.
If you test positive you may be entitled to the £500 Test and Trace Support Payment Please note the government has laid down strict eligibility criteria.
Do I have to take this test?
No. We are hoping that many people will recognise the benefits of getting involved in local testing efforts to reduce the spread of the virus in their community and help everyone get back to some normality.
Why should people take part?
We aim to identify people who do not have Covid-19 symptoms but who are infectious and could spread the infection to others unknowingly. Identifying and supporting infectious people to isolate before they develop symptoms will help reduce spread
What happens if I test negative?
You should continue to follow the preventative measures currently recommended for stopping the spread of the virus. Act as if you have the virus at all times to protect yourself and others, you must remember: Hands. Face. Space.
Hands – wash your hands for 20 seconds with soap and water often, and as soon as you get home – use hand sanitiser gel if soap and water are not available.
Face – wear a face covering in indoor settings where social distancing may be difficult, and where you will come into contact with people you do not normally meet.
Space – stay at least 2 metres away from anyone you do not live with, or who is not in your support bubble.
What should someone do if they have coronavirus symptoms?
If you have any symptoms of coronavirus, you can register for a PCR test by calling 119.
Free testing for anybody with symptoms continues to be available to everyone Lincoln. PLEASE NOTE: You MUST book a test if you have symptoms of coronavirus – high temperature, continuous cough or loss of / change in taste or smell – at nhs.uk/coronavirus or by calling 119.
After your Lateral Flow Test, you will be asked to take a leaflet which advise you on next steps. Keep this with you and, if you do test positive, bring this along to the PRC test.
What can I do if I don't have childcare?
You can bring your child with you to the testing centre and they can accompany you during the test. However, they themselves are unable to receive a test at this centre if they are under the age of 16.
I am registered disabled, if there somewhere close by where I can park?
Although the testing centre is a walk up facility, there is some car parking close by. On-street car parking is available on Sausthorpe Street, which is around 200 metres from the entrance to the testing centre
I am classed as a vulnerable person and currently shielding – should I come for a test?
The decision is yours, however, if you are shielding then it is unlikely you will have come into contact with someone with Covid. However, if you have symptoms then you should call 119 and book a PCR test.
What do I do if I test positive of the last day of testing at the centre?
As this testing centre closes on 24 January, one opens the following day at St Swithin's community centre on Croft St. You will be able to access a PCR test at this site.
Do I need to get tested if I am regularly tested through work?
No, if you receive a regular test at work and you are confident that it is being administered correctly, then you do not need to attend this site.
Is this a one off test? Or can people repeatedly get tested if they have been in contact with someone with symptoms but not displaying themselves?
Yes, the test is offered to each resident once in the two week period, if you then later on get symptoms you can book in for a PCR test.