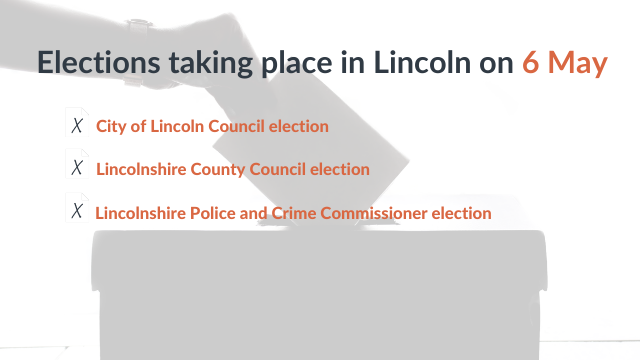 Elections take place on 6 May 2021 for Lincolnshire County Council, the City of Lincoln Council and the Lincolnshire Police and Crime Commissioner.
Here is the latest on the safety precautions you'll find in place while voting at Polling Stations, along with some general information.
COVID-19 related questions
Do I need to wear a face covering?
Yes, you are requested to wear a face covering while at the polling station unless you are exempt or have a reasonable reason for not wearing one. If you forget your face covering, spare face coverings will be available for you to use and take away with you.
How will social distancing be managed?
Social distancing will be in place at Polling Stations, whether that be in queues as you wait to enter a Polling Station or as part of being issued with your ballot papers and placing your completed ballot papers in the ballot box. Please maintain an appropriate distance from other people and follow any instructions from polling station staff.
All Polling Stations will implement a one-in-one-out system which will be managed by meeters and greeters at each station, who will also assist with social distancing and provide you with any further information or advice.
Please do not be put off by queues, which may appear to be longer than usual due to social distancing.
You are asked to help us manage the safety of our Polling Stations by entering and exiting the premises efficiently.
Are Polling Stations safe?
A significant amount of work has taken place to put measures in place to make Polling Stations as safe as possible for anyone working in them or visiting them.
Your Polling Station will look and feel very different to previous elections, but similar to what you would expect to see at your local supermarket or hairdressers in terms of social distancing, use of PPE and sanitisation/cleaning.
Have the staff been tested?
All staff working at Polling Stations have been provided with lateral flow tests and have been encouraged to undertake testing prior to working at a Polling Station. The testing of voters is not mandatory, however, you are also encouraged to take a test prior to entering the Polling Station if you are able to in the same way that testing is encouraged in the wider community generally.
Voters can also access rapid lateral flow testing through the Community Testing Programme. These tests provide a result in 30 minutes and can be taken either at home or at asymptomatic testing sites.
To find out where your nearest test site or community collection point is please visit maps.test-and-trace.nhs.uk/findatestcenter.html
Can I attend the Polling Station with others?
You are asked where possible to attend the Polling Station alone, not in the company of dependents if at all possible. However, those living in the same household or in a bubble may be permitted to attend the Polling Station at the same time subject to the size of the premises.
Do I need to use NHS Test & Trace and log in?
This is not required due to the short time period that each person will be inside the Polling Station.
Will hand sanitiser be provided?
Hand sanitiser will be provided at the entrance of the Polling Station and antibacterial wipes will also be available for use to wipe down any surfaces before casting your vote.
Will surfaces in the booths be cleaned between each person?
Regular cleaning will take place within the polling stations, including regular cleaning of ballot boxes and surfaces.
I'm disabled and need help, will the polling staff still be able to help me?
As usual, disabled voters can be accompanied by someone to help them vote.
Polling staff will be on hand for some assistance whilst observing social distancing, wearing face coverings and having used hand sanitiser.
Can I use the toilets at the polling station?
If your Polling Station has facilities, it is likely that these will not be available for use. We encourage you take this into account before visiting the Polling Station.
Candidate visits – will this still be allowed?
Yes they can visit, including outside polling stations but they should comply with the Electoral Commission's Code of Conduct, keeping access to polling places and the pavement clear. Campaigners should be thoughtful to voters in their approach – for example, recognising that some voters may find groups of supporters outside a Polling Station intimidating. They will be required to comply with all Covid-secure arrangements and follow instructions from the Polling Station staff.
General Questions
Do I need my Poll Card/ID?
You do not need to take your Poll Card with you to the Polling Station. If you do take your Poll Card to the Polling Station you will still need to confirm your name and address verbally to polling staff as a prevention against fraud. You will also be expected to take your Poll Card home with you.
Where's my polling station?
Check your Poll Card to find out which Polling Station you must attend to vote. We have had to make changes to a number of Polling Stations in Lincoln this year and you cannot vote at another station other than that which you have been allocated to. You can also find details of your polling station by visiting lincoln.gov.uk/online/find-polling-station
When are the Polling Stations open?
All Polling Stations are open from 7am to 10pm. In order to vote an elector must be in the queue or in the Polling Station by 10pm. Given the probability of extended queuing this year, you are advised to bear this in mind and arrive in good time and as early as you can.
Do I need to take a pen/pencil?
On this occasion, for Covid-security, you are advised to take your own pen or pencil to mark the ballot paper. Disposable pens will be available at the Polling Station should you need them which you can take away with you.
I can't get to the Polling Station in time. What can I do?
In certain circumstances, you may be able to apply for an emergency proxy up to 5pm on an election day. This is only where you have a medical or work related emergency which means you cannot go to the Polling Station in person, which has occurred after the normal proxy deadline has passed for an election (which was on April 27, 2021).
You will need to submit a completed application form which must be signed by a medical professional/employer. The forms can be downloaded from the Electoral Commission website – Emergency Proxy application. Please contact Electoral Services on electoral@lincoln.gov.uk for more information.
What happens if I need to self-isolate or I become unwell with Covid-19 – how can I vote?
If an elector cannot reasonably attend the Polling Station following coronavirus advice, they can make a Covid-19 emergency application to vote by proxy but it must reach the District Council's Electoral Registration Officer by 5pm on Thursday 6 May 2021.
The Covid Emergency Proxy application process runs from 5pm on April 27, 2021 until 5pm on polling day for those voters who become unwell or have to self-isolate as a result of government or medical advice in relation to Covid-19. They can also amend a proxy appointment if their proxy has become unwell or needs to self-isolate because of Covid-19. They have to complete an application form and need to contact the Elections Office for further information.
Email electoral@lincoln.gov.uk or call 01522 873 439.
I haven't seen any candidate information – where do I find it?
It is the responsibility of each individual candidate to provide information and/or documentation to the electorate.
There is no single source of candidate information for local elections, so you should visit candidate websites, party websites, or approach them in any other way.
A list of candidates standing in the May 6 elections can be found at lincoln.gov.uk/voting-elections
More detail of the candidates for the Office of Police & Crime Commissioner for Lincolnshire and their statements can be found at choosemypcc.org.uk/area/lincolnshire/
I understand there's a different voting system for the Police and Crime Commissioner elections. What is this?
For the Lincolnshire County Council elections and City of Lincoln Council elections you make only one mark for your one preferred candidate.
For the Police and Crime Commissioner elections, the system is a 'supplementary voting system'. This entitles you to make a first and second preference selection. You do not have to use both preferences.
All first preference votes are counted and if a single candidate secures 50% of the votes, plus one vote or more, they are elected. If no candidate secures this majority, the top two candidates (or three in the event of a tie) continue into a second round and the second preference votes made on the papers of the eliminated candidates are tallied where they apply to the remaining candidates.
More information about these and other elections can be found at www.lincoln.gov.uk/voting-elections